In our more than 20 years of business we have designed multitudes of projects. We've helped companies create their identity with new logos, and helped existing companies enhance their branding. Dozens and dozens of package designs for companies from Alaska to Connecticut and in between. Company brochures, websites, electronic presentations, trade show materials, signage items, truck decal design…..the list goes on. The following are a few of the most recent projects we'd like to share: 
Capital Brewing Company - Packaging Graphics Redesign
In the highly competitive craft beer market, its easy to get lost on the shelf in the battery of funky esoteric designs and flavor offerings by the dozens and dozens of competitors in the market place. The goal here was to simplify cut through the clutter. With lots of white and the strong diagonal element driven with color, this packaging scheme literally screams off the shelf.   

Pleasant View Golf Course - Logo Enhancement
A few years ago, Pleasant View Golf Course in Middleton, WI asked us to take a look at their old logo. They felt the design was a bit dated and with the course improvements and loss of many pines and the growth of more broadleaf trees, they wanted to evolve the logo without walking away from the familiarity of the look with locals.
We chose a similar, but updated, font and moved the name together as one element. We changed the trees to silhouettes and added a new green motion wave to depict the typography of the course, and finished it off with more comfortable 'finish swing' look for the player.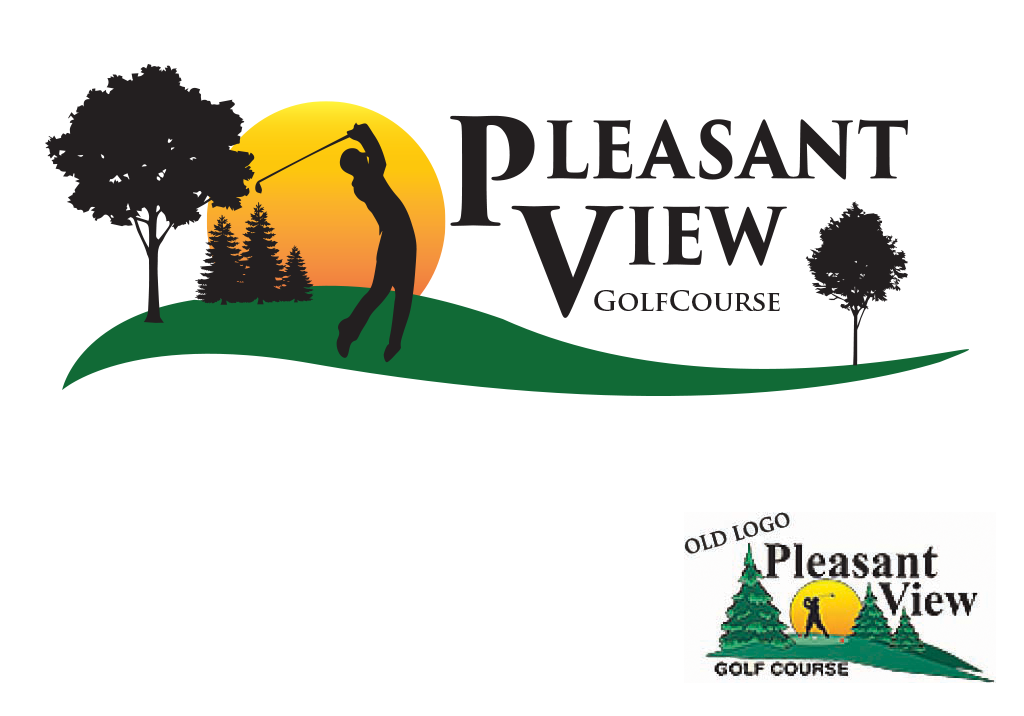 Gilles Frozen Custard - Rebranding and Website Design
The website we designed for Gilles was actually part of a much bigger rebranding project. This was a 'clean screen' kind of project where nothing was sacred and anything could change. With the development of new decadent flavors and because it is frozen custard, a richer creamier product, we weren't locked into typical 'ice cream scoop' packaging. We picked a bold contemporary font and turned it vertical, then put it on a cold metal background and created the 'creamy indulgence' spoon icon. Color is introduced with the flavor designations. We topped it all off with a purple cover. Why purple? Because we could own it in the freezer section!
The website reflected all these elements of the new positioning. Simple, clean, elegant and engaging. Strong brand package recognition with a complete list of flavors and information on each on the 'flavors' page.
Sand Creek Brewing Co. - Packaging Graphics Redesign
Our relationship with Sand Creek Brewing Company goes back nearly 10 years. Our first project was designing their English Style Special Ale. We introduced a whole new package scheme to them with the English Bulldog and Union Jack flag background. From there the scheme, and our relationship, took off. Each brand had its own identity, held together with the continuity of the beer glass always in the same position. This also served to inform consumers what type of beer a pale ale is (some people are afraid of dark beers…yes, its true!!) As a smart brewer, Sand Creek has recognized that packaging graphic enhancements 'refresh' a brand in the eye of the consumer. Hence, we've introduced the newest package scheme. Using many of the same elements, we added a strong diagonal element carrying the flavor name for more consistency and stronger branding on shelf. 
Schoep's Ice Cream - Rebranding
For the Schoep's ice cream brand our first step was to explore, and ultimately enhance the brand logo by choosing brighter colors and adding the "Serve It…You Deserve It!" tagline. We utilized the previous packaging's cream and orange colored stripes, but relegated them to the lid only, and introduced a waffle cone texture in the background with big scoop shots for appetite appeal. We then developed a new flavor designation vehicle to communicate to the consumers.
Once through the multiple flavor and package configurations, we applied the new packaging scheme to the line of novelty treats packaging which previously had a completely different package structure and color. Purposely connecting the ice cream scoop products with the novelty treat line make perfect sense for family brand continuity and branding.
Middleton Area Development Corporation (MADC). - Website Design
MADC is a nonprofit private loan fund working closely with the City of Middleton and Middleton Chamber of Commerce, offering alternative funding sources for economic development in and around the Middleton area. We were asked to freshen their existing website which had been sorely neglected for a few years.
Our goal was to engage, inform, and educate viewers both about what Middleton has to offer, with links to the City, Chamber, and Tourism websites to learn more about Middleton, but also how to begin the process to source funding for a project.
Banners, Signage, Booth Design.....
Over the years we've done the design and sourcing for several different types of materials for trades show or other brand support. Everything from booth layouts, to vinyl banners, retractable banners, mirrors, metal signs, handouts and giveaways, even neon signs. We have the knowledge, resources, and experience to help you present your company in most any situation.
Here's a few of our favorite designs done over the years....
We won't say that packaging is all we do, or all we love to do. But, we will say that we have the most fun doing consumer goods packaging. There's just something special about seeing your designs attracting customers in a store! Oh, we've also won multiple American Package Design Awards as well….so there is that!
See Something You Like? Think We Can Help You With Your Project?